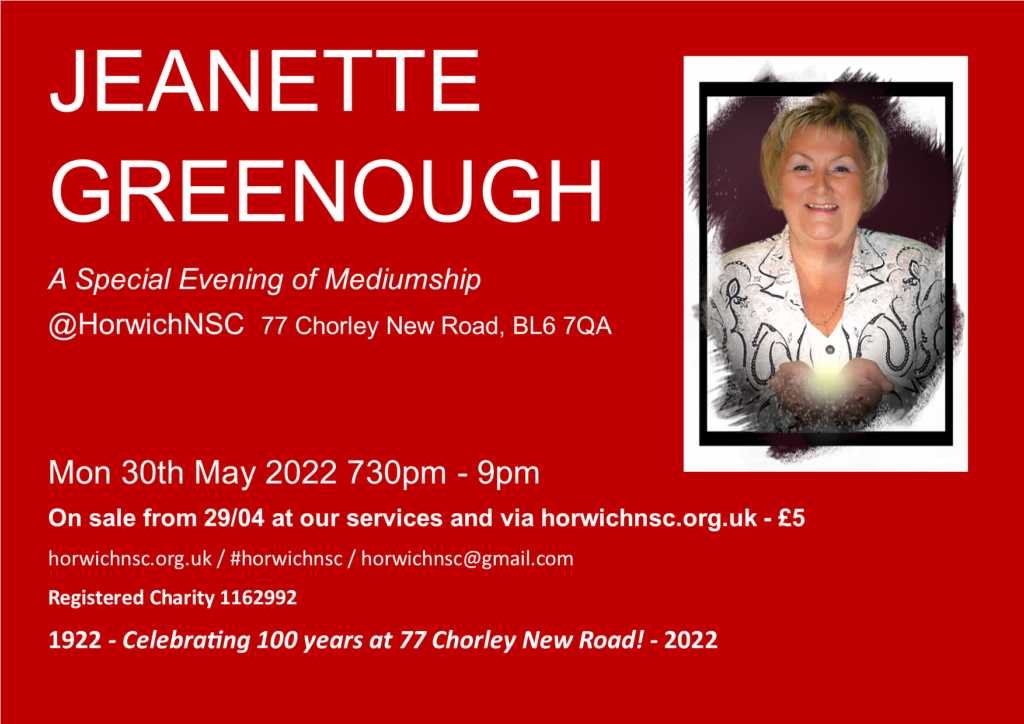 T.V. Medium Jeanette Greenough been able to see, hear and sense the spirit world since the age of two years old. Working with her spirit guides, Janette is able to connect members of the audience with family or friends that have 'passed over'. The evening is captivating and uplifting with laughter and a few emotional tears. Jeanette has appeared on Channel 5 demonstrating her mediumship, and we are delighted she has agreed to join us at Horwich for this special evening of mediumship. All are welcome to join us, with tickets available on the link below…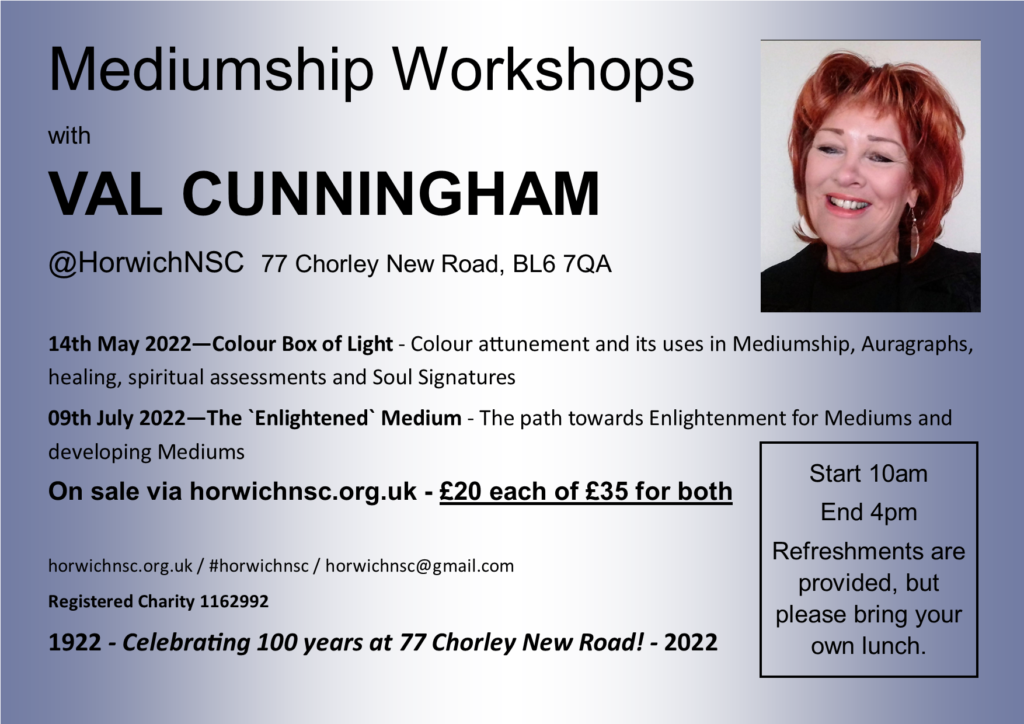 The Enlightened Medium Workshop….
Are you looking to develop your own Mediumship abilities? 

This is much more than `Mediumship Development` – we will focus also upon your own Spiritual pathway towards Enlightenment.   Development of your own inner spirit is essential to reaching new heights in your communication skills and delivery.  With specifically designed tools, exercises, and guidance, this day is invaluable towards you becoming the very best medium you can be.  Everything you learn, you will carry forward on your own special journey to becoming the `Light-filled Medium`, working at your highest and most loving for the benefit of others. Together, we shall work towards you becoming an `Enlightened Medium 'of the future.
Designed for:
Experienced Mediums & those in early stages of development.
Please note that 1 place is available on the Val Cunningham workshops FREE OF CHARGE. This place is available in conjunction with Val Cunningham and our church bursary fund, supporting our church members development. If any church member is interested in applying for this place, please drop a note to horwichnsc@gmail.com or speak confidentially to our President Chris, or Vice President Janet at our services and events.
***PLEASE NOTE THAT ALL ONLINE TICKET PURCHASES WILL BE AVAILABLE TO PICK UP AT THE EVENT. SHOULD YOU WISH TO COLLECT THEM BEFOREHAND, PLEASE REQUEST BY CONTACTING US AT HORWICHNSC@GMAIL.COM ***