Horwich NSC loves being a community in its own right, and being a big part of the community outside of our doors. We work hard on our own offering to be attractive and welcoming to fellow Spiritualist, those into well being, and anyone who feels the need to visit us as they see fit. We are also well represented within our community with good links to individuals, local charities, organisations and businesses.
We encourage friends to join us as members to formally become part of our community. For the humble annual cost of £6, membership entitles you to discounts off our standard Monday Mediumship services, and occasional discounts of other events. As proud Spiritualists, we also welcome our members to help us develop the voice of spiritualism within the community. This is not about preaching, but living the life of a Spiritualist, based on the Seven Principles of Spiritualism. Living the life of a Spiritualist often attracts interest with new friends keen to learn about our religion and philosophy, and we will always welcome them.
By joining Horwich NSC, you will be able to:
Add your voice to our community
Keep up to date with our all things Horwich NSC
Attend, speak and vote (Upon being invited to full membership) at Annual and Special General Meetings
Gain discounts on across some of our events and services
Become active within our services, events and community in and out of Horwich NSC
Qualify for invitation to become a Full member at Horwich NSC by the committee, subject to satisfactory commitment to Horwich NSC and our religion.
Time served membership will make you eligible for nominations to be part of our committee or officer roles
Continue a legacy that has been in Horwich for over 100 years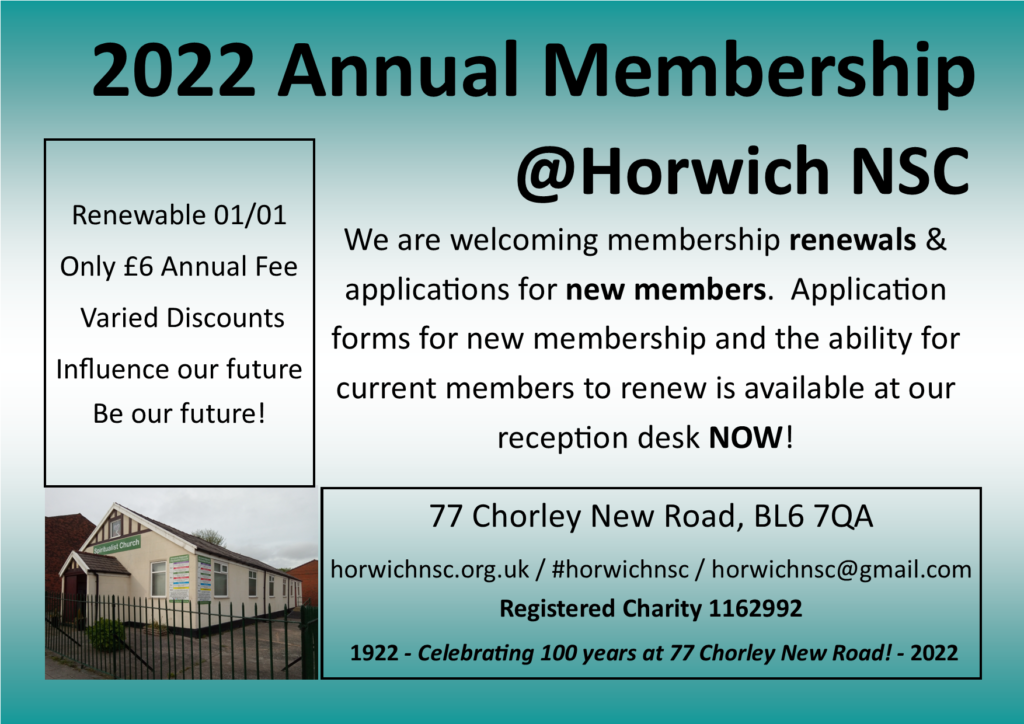 Renewing your membership
Membership is due the first January after you become a member, and each January thereafter. For 2022, membership can be renewed in person, as and when we are open. In the extraordinary circumstances we find ourselves in, membership renewal can by completed by making your payment by the below PayPal link or by sending a cheque as detailed in the above image.
New Membership
Like with existing member renewals, annual subscription is £6. You are able to do this by the below Paypal link, or by sending a cheque, as detailed in the image above. New members also need to complete our membership form, available by clicking the picture of our building below.
Where to send cheque's and membership forms
Please send to Horwich NSC, 77 Chorley New Road, Horwich, Lancashire, BL6 7QA for the attention of 'The Secretary'. In respect of membership applications, the committee will review your application at its next committee meeting and be in touch about the next steps.
Paying by PayPal
Print out a membership form